Resources
The Resources page includes information for landowners and managers in Suisun Marsh. These include general Landowner Information, Public Notices, Maps, Photos, and Useful Links.
Landowner Information
The Suisun Resource Conservation District works with the landowners to provide assistance and guidance on numerous areas of club management. Attached files are useful information and documents for landowners.
Please contact the SRCD Water Managers with any questions:
Individual Management Plans
SRCD Alternative Compliance Plan for Diversion Measurement
On 24 June 2015, Governor Brown signed Senate Bill 88 into law. This legislation added new measurement and reporting requirements (effective 1 January 2016) for diverters who divert more than 10 acre-feet of water per year including in the Suisun Marsh. The State Water Resources Control Board (SWRCB) adopted emergency regulations to implement these new provisions on 19 January 2016. This new law and its regulations affects all water users required to file a Statement of Diversion and Use in the Suisun Marsh, including those claiming riparian or pre-1914 appropriative water rights. Reporting of water diversion amounts is now required annually, and the past reporting requirement of every three years has been eliminated.
SRCD has worked with the Delta Watermaster to develop an Alternative Compliance Plan for all Suisun Marsh diverters. The diversion measurement method of staff gauges and floodable acreage will continue to meet regulatory requirements for the measurement of brackish water used to manage Suisun Marsh wetland habitats. If landowners choose not to opt-in to the SRCD's Alternative Compliance Plan, they may measure their own diversion and report it directly to the SWRCB. Violators will face fines and penalties under the new law.
SRCD Alternative Plan for Compliance Plan (PDF)
SRCD Alternative Plan for Compliance Opt-In Form (PDF)
SRCD Alternative Plan for Compliance Attachment A (PDF)
Diversion Reporting Information
Clubs are required to record monthly water diversions for the calendar years. A supplemental measurement form is required for submission. The submission for the forms may be done through an online version with a username and password linked to each diversion reported in an Initial Statement. Contact your Water Manager for assistance as soon as possible. Please see link below for further instructions.
Reclamation District Requirements and Reporting Details
2019 Introduces new regulations for many public entities, including Reclamation Districts. Information on requirements/rules, and how to comply can be found below in the presentation below:
Public Notices
Announcement of Pre-Qualification Procedures
Notice is given that all bidders on public works to be undertaken by SRCD must be pre-qualified prior to submitting bids for public works. It is mandatory that all Licensed Contractors who intend to submit bids fully complete the pre-qualification questionnaire, provide all requested materials, and be approved by SRCD to be on the final Bidders list. No bid will be accepted from a Contractor that has failed to comply with these requirements.
A Pre-Qualification Application may be obtained by contacting SRCD at 2544 Grizzly Island Road, Suisun, CA 94585 or by downloading it at the link below. Applications may be submitted two times each year as needed: (1) from 1-15 February; and (2) from 1-15 July. SRCD reserves the right to waive minor irregularities and omissions in the information contained in the pre-qualification application submitted, to make all final determinations, and to determine at any time that the pre-qualification procedures will not be applied to a future public works project. For additional information or questions, please contact Operations Manager John Takekawa at the address above or at 
Public Works PreQual Application Jan 2023
       Suisun Marsh maps and visual representations of zoning divisions are provided here.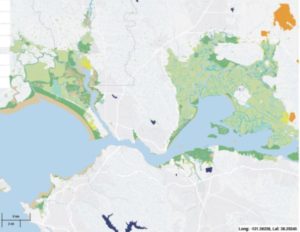 The San Francisco Bay EcoAtlas is a mapping tool for visualizing and storing environmental data and information for the San Francisco estuary. It includes maps of current and historic Bay Area conditions. The maps and tools can be used to create a picture of wetland features on the landscape overlaid with other layers including biophysical characteristics and infrastructure. One tool is a program called Project Tracker, a data entry tool for uploading and editing information on wetland restoration, mitigation, and habitat conservation projects throughout California (also see Science > Restoration). To see maps of the Suisun Marsh area, click the link or the image.
Suisun Marsh Atlas

The Suisun Marsh Atlas provides spatial information about different aspects of the marsh, such as soil, facilities, and conservation areas.
This webpage includes a photographic collection of wildlife, people, Suisun Marsh history, values and services, wetlands,  management methods, and restoration.
Links to useful information related to Suisun Marsh from agencies and organizations are provided here. Additional information is provided under the Science submenu.