Water Manager Program
The Suisun Resource Conservation District (SRCD) represents private landowners of the Suisun Marsh at the federal, state, and local levels. It supports several programs with a goal of providing support to landowners for their habitat management.
The Water Manager Program is funded by the Department of Water Resources (DWR) and the U. S. Bureau of Reclamation (USBR) through Suisun Marsh Preservation Agreement (SMPA) Amendment Three, Article VIII. Their main goals are to:
Ensure proper water management and maximize the potential of an individual parcel
Provide cooperative service and technical support to Suisun Marsh private landowners
Answer questions and educate landowners on best management practices
Promote effective and efficient use of channel water
Benefit or avoid impacts to fisheries and protect sensitive species within managed wetlands
Administer the portable pump program
Monitor the operation of fish screen facilities and perform routine maintenance
Assist landowners in avoiding mosquito production
See the map with Water Manager Zones here.
Portable Pump Program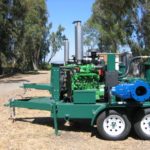 Under the Portable Pump Program, two types of pumps are available to the landowners (at a subsidized cost) to aid and enhance marsh habitats. Water managers oversee operation, maintenance, and distribution of the pumps. The pumps are available for draining operations (leach cycles) on individual ownerships and state-owned lands. There may be changes in the rental charge and prioritizing pump operations annually. Please review the information page on the most recent Pump Rental Agreement Form at the link below.
Preservation Agreement
The Preservation Agreement Implementation (PAI) Fund provides grant funding for activities needed to improve managed wetland facilities, operational efficiency and water management capabilities. Instructions for each cost-share program specify which types of habitat improvements may be eligible for participation.
2023 PAI Program Landowner Notification letter
2023 PAI Cost Share Application
Drainage Infrastructure Improvement 75/25 Cost Share Program: This program provides funds for managed wetland infrastructure improvements that are necessary for the property to meet the 30-day flood and drain cycle objectives for managed wetlands. Funds for this Program will not be used for maintenance of water control structures or fish-screens.
Drainage Infrastructure Improvement 50/50 Cost Share Program: This program provides funds for management and infrastructure improvements to benefit leaching and drainage efficiency of individual clubs. Guidelines for leaching expenses are provided within the application information.
Joint-Use Facility Improvement (JUFI) 75/25 Cost Share: Joint-use facilities are water control improvements used between two or more properties. Funds for this program may not be used for maintenance of individual property water control structures or fish-screens.
Fall Flood-Up Program
The Fall Flood-Up Program is a joint facilitated program between the Solano County Mosquito Abatement District (SCMAD) and SRCD. The goal is to reduce production of mosquitoes during the flood up of the managed wetlands. Information regarding flood-up techniques and procedures to reduce mosquito production may be provided upon request. Landowners contact SCMAD and SRCD with their proposed dates for flooding their properties. SCMAD technicians inspect the property after the initial opening of the intake structures following the life cycle of the mosquito larvae. SCMAD will spray any properties that produce large quantities of mosquitoes, and cost share is provided when available.
Pest Weed Control Program
The main goal of Pest Weed Control Program is to control invasive weeds of the Suisun Marsh. SRCD offers advice on options including chemical purchases, application practices, and provides cost-share when available. The two primary invasive weeds in the Marsh are:
Lepidium: grows in large concentrations along levee edges and areas within the Marsh that are not flooded year around. The plant changes the soil composition which can eliminate other plants from emerging once it has established itself. Best time to spray is before plant sets seed (mid April-May).
Phragmites: grows in dense tall patches within semi-flooded and flooded areas in the Marsh. If left unmanaged, stands can consume entire pond areas and eliminate native and beneficial Marsh plants. Best time to spray is before seed set (mid-June to July).
2023 Lepidium Fillable Application Form
Lepidium Identification: